Creative Dried Flowers is a stockist of The Scentimental Collection TM. This is a range of lavender beauty products prepared exclusively for The Australian Lavender Growers' Association. Only Australian lavender essential oil is used and all products carry the Australian Made logo. The Scentimental Collection includes Lavender Soap, Gardener's Soap, Hand and Body Lotion, Hand sanitiser, Hand Cream, Deodorant and Lavender Mist.
Price list 2019 GST inclusive
Lavender Cedars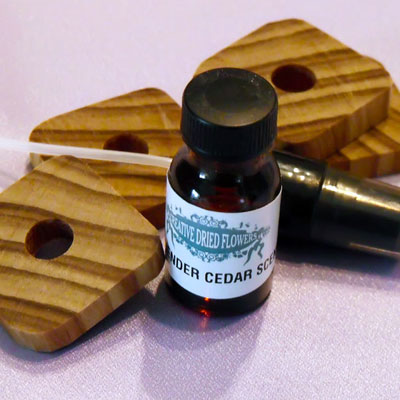 A natural product which is a very effective moth deterrent
Includes 4 cedar blocks impregnated with our unique essential oil "Lavandula x Allardii"
15ml lavender cedar oil + 4 cedar blocks $20.00
Lavender Heat Bags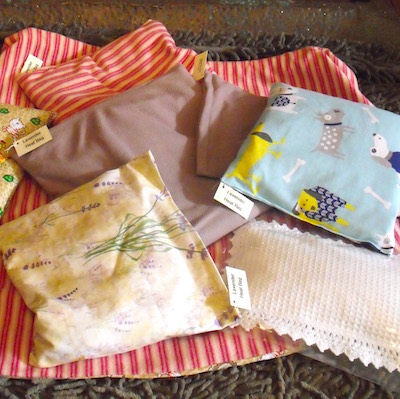 Lavender heat bags made with dried lavender and lupin seed. No wheat.
Microwaveable fabrics
Small $8,  Large $15
Lavender Sachets
Lavender sachets made with Australian grown Lavandin 'Grosso'
Ideal for scenting wardrobes and drawers.
$7 ea
Australian Lavender essential oil is of high quality and tested annually. 
Both Lavandin essential oil and Lavandula angustifolia oils are produced by members of The Australian Lavender Growers' Association.
Creative Dried Flowers is pleased to support the Australian Lavender oil industry.
Lavender essential oil is used in perfumery, skincare products and aromatherapy. It has antiseptic and antibacterial properties. It can be used on the forehead to relieve tension and is a sleep inducer. Two most popular essential oils are Lavandula x allardii which is great for sinus relief and Lavandula angustifolia 'Avice Hill'  for calming and sleep.
Bottles of essential oil are available in sizes from 5ml to 100ml. Enquire for prices.
Creative Dried Flowers, 310 Macarthur Street, Ballarat, Victoria 3350 Australia