Creative Dried Flowers is a stockist of The Scentimental Collection TM. This is a range of Lavender skin care products prepared exclusively for The Australian Lavender Growers' Association(TALGA).
Only Australian Lavender essential oil is used and all products carry the Australian Made Logo. The Scentimental Collection includes Lavender Soap, Gardener's Soap, Lavender Hand and Body Lotion, Lavender Refresher/Hand sanitiser, Lavender Hand Cream, Lavender Deodorant and Lavender Mist.
New to The Scentimental Collection is the Lavender Gift Pack. There are 4 items in the gift pack - Lavender Handcream, Refresher/sanitiser, Lavender sachet, Lip Balm. The gift pack is also suitable as a travel pack because of its handy size.
For a price list 2022 GST inc. and how to purchase contact fiona@creativedriedflowers.com
This still is used for distilling essential oil from Lavender.
Essential Oil Still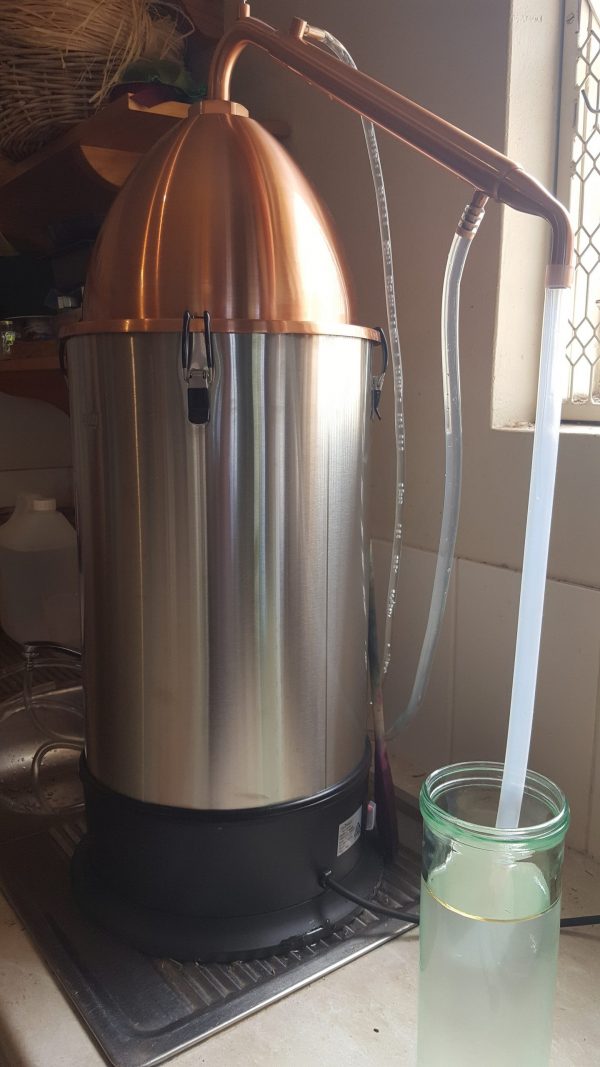 This is an electric powered alembic still, 25 L capacity.
Lavender flower heads are harvested and placed in the still and steam is produced to extract the essential oil from the flower heads. The oil vapour passes through a condenser and is collected in a jar. Oil sits on top of the water and can be separated from the water by freezing. The remaining water is collected and is known as Hydrosol. It can be used in cosmetic manufacture. 
Lavender essential oil is grown and distilled in Australia. It is of high quality and tested annually. 
There are two varieties of Lavender essential oil - these are Lavandin and Lavandula angustifolia. Both Lavandin essential oil and Lavandula angustifolia oils are produced by members of The Australian Lavender Growers' Association.
Creative Dried Flowers is pleased to support the Australian Lavender oil industry.
Lavander essential oil is used in perfumery, skincare products and aromatherapy. It has antiseptic and antibacterial properties. It can be used on the forehead to relieve tension and is a sleep inducer. Two most popular essential oils are Lavandin 'Grosso' which is great for sinus relief as it contains approx 6% camphor.  Lavandula angustifolia 'Avice Hill'  is often used for calming and sleep. One of the best culinary Lavenders  is Lavandula angustifolia 'Egerton Blue'. This deep blue flowering Lavender was propagated by Rosemary Holmes and named after Mt Egerton, Vic near where she lived. This can be used as fresh or dried flowerbuds or by the drop of essential oil, in cooking.
Bottles of essential oil are available in sizes from 5ml to 100ml. Enquire for prices.
Creative Dried Flowers, 310 Macarthur Street, Ballarat, Victoria 3350 Australia